STRAIGHT RAZOR SHAVING VIDEO
An excellent video "The Lost Art of Straight Razor Shaving" by Greg Ives (Master Barber) that covers everything you need to know to maintain and shave with a straight razor. It comes on VHS & DVD.
Cost is $29 including shipping to the US.
Click on the button below to use paypal or email me for check/money order details.
For Paypal USA orders click the paypal icon.
For non USA orders, please email first.
Please email me with you preference for DVD or VHS.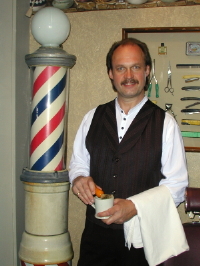 LATE 1700S