BEAUTIFUL CELLULOID PATTERN HANDLED STRAIGHT RAZORS
---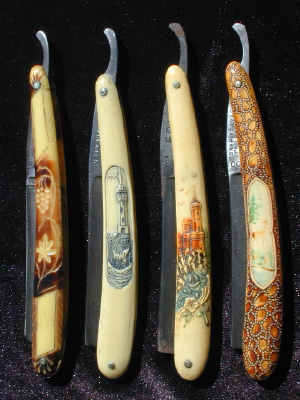 ---
EXTREMELY RARE LOBSTER STRAIGHT RAZOR- LOBSTER IS SAME ON BOTH SIDES- NO DAMAGE TO HANDLES $ 700 SOLD
---
VERY RARE SNAKE HANDLE STRAIGHT RAZOR- NO DAMAGE- SNAKE ONE SIDE -- $500 SOLD
---
BEN HUR
EXTREMELY RARE RAZOR It has the full Ben Hur racing scene etched on the blade. $650 .
---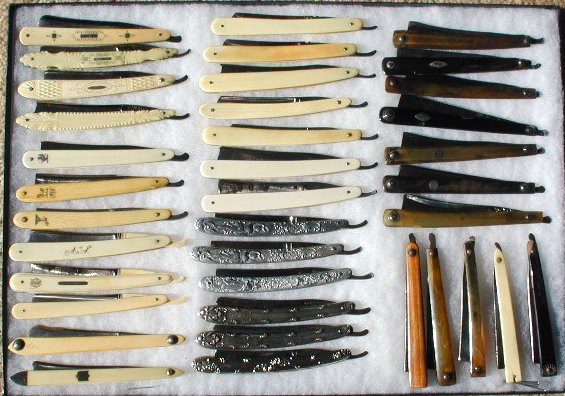 IVORY HANDLES ON THE LEFT AND TOP MIDDLE-- THEN 3 CAST ALUMINUM- THEN 3 STERLING SILVER ON THE BOTTOM
TOP RIGHT LATE 1700S - 1810 --- THEN THE 5 ON THE BOTTOM RIGHT ARE SHORT STRAIGHT RAZORS I BELIEVE THEY ARE USED FOR TRIMMING SINCE THEY ARE SO SHORT
---
EXTREMELY RARE STRAIGHT RAZOR This is the only one of these that I have seen.