STRAIGHT RAZORS BOUGHT SOLD TRADED
Collecting straight razors is a relatively new type of investing and is rewarding in several ways. Collecting straight razors at this time is a rare opportunity to get into a "Budding" hobby or business, since there are no completely reliable books on prices, valuable straight razors can be found in many places and sometimes for a bargain. It is very possible to find a straight razor that is worth hundreds of dollars for less than $10. Collecting straight razors is very enjoyable because of the different types of straight razors. The celluloid handles on a straight razor can be very beautiful or unusual. Sterling silver handles on a straight razor is now getting so hard to find that most collectors won't sell the straight razors at all.
I hope you enjoy straight razor collecting as much as I do. Thank you, John West, Kentucky, USA
Please email me for shipping and insurance costs.
---
Very good
---
Very Rare STERLING SILVER straight razor. Price = $500 + shipping and insurance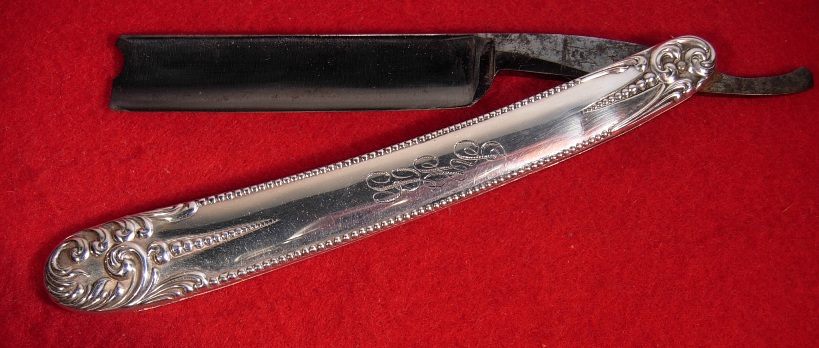 ---
Very Rare CAST ALUMINUM PARIS EXPO straight razor. Price = $700 + shipping and insurance


---
---
An ERN FARM SCENE pattern straight razor with the crown and sword on the handles and a lot of animals in detail. If you are looking for a pattern razor, this is one of the best and most beautiful. Has some slight warping on bottom but no chips, cracks or any other damage. It has the original handles and pins. Price = $350 + shipping/insurance. Email me for shipping quote.



---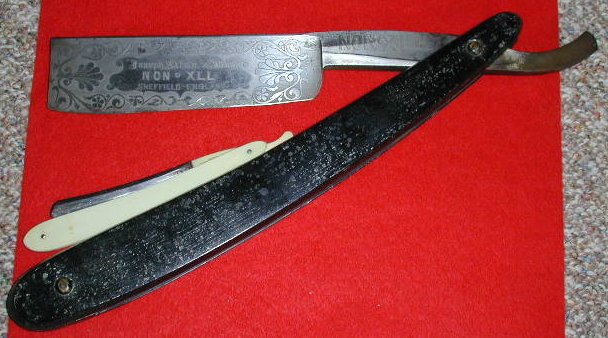 Large Display straight razor with fancy etching.
---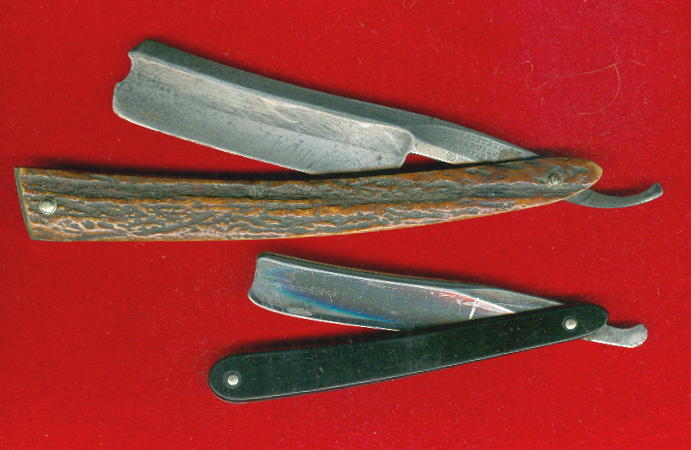 I am looking for these short straight razors less than 5" long closed.
---
Straight razors in German are called Rasiermesser.
French old razor is called ancien rasoir.
---
Three of my favorite straight razors, top to bottom: Burkinshaw, M. Price, Case Redbird